I've always thought it was sort of ironic that they called a holiday Labor Day and you didn't labor. I really didn't know anything about this holiday. When I was a kid, it was just a day we got to get out of school. When I became an adult, I got off of work. So it was interesting for me to read up on this one and find out what it was all about.


Labor Day is the brainchild of two men - Peter McGuire, a carpenter from New York who helped to organize the United Brotherhood of Carpenters and Joiners of America and Matthew Maguire, a machinest from New Jersey (not to be irreverent, but doesn't that sound like a vaudeville team??).


In 1881, the idea of organized unions for workers spread across the country. At that time, workers were working long hours, for poverty-level wages, in dangerous surroundings. Organizing unions provided them with a way to better their jobs and pay.


McGuire, Maguire and others planned a day to honor workers across the United States. On September 5, 1882 (the first Monday), the Knights of Labor held a parade in New York City. 20,000 people marched in the parade carrying banners which read, "8 Hours For Work, 8 Hours For Rest, 8 Hours For Recreation!!" and "Labor Creates All Wealth!!" The Parade was a success and the Knights held it the next 2 years. In 1884, they adopted a resolution to hold a parade on the first Monday in September every year and call it Labor Day.


The idea spread across the United States and soon many other states were holding their own parades. In 1887, Oregon and Colorado passed a law that made Labor Day a state holiday (New York, Massachusetts, and New Jersey soon followed). The Knights of Labor lobbyed for 10 years to have Labor Day made a national holiday and finally, on June 28, 1894, Congress voted on it and President Grover Cleveland signed a bill declaring the first Monday in September to be Labor Day.


Labor Day is celebrated in many countries besides the United States. " In Australia, Labor Day is called Eight Hour Day, and commemorates the successful struggle for a shorter working day. In Brazil, as well as in Europe, Labor Day is on May 1." Canada celebrates it on the first Monday in September as does Puerto Rico.


Although Labor Day started as a holiday to honor the working class, it has since been expanded to a day to just relax and have some fun.


(Sources Used - Labor Day, Labor Day, Labor Day, Labor Day, U.S. Holidays, Labor Day)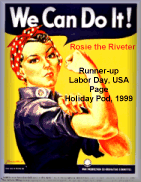 To OCTOBER


To SEPTEMBER